Tree Management
Tree management on golf courses has become a big topic over the past 20 years.  Much of this started with the removal of trees at Oakmont Country Club around the time of the 1994 US Open.  If you recall from the 2016 Open held there, Oakmont is known just as much for the removal of ALL of its trees as it is for grandeur of the course itself.  As more members of the golfing community see how well Oakmont looks, and plays, they begin to see that having thousands of trees is not needed to create a difficult course.
One recent item that has created a bigger impact on the golf course trees is the Emerald Ash Borer.  This beetle has spread across the eastern United States destroying every Ash tree in its path.  This process has been similar to Dutch Elm Disease, which spread through the United States beginning in the 1920's.   Today many courses have lost hundreds, if not thousands of Ash trees.  With the appeal of Oakmont, these courses have begun to reexamine the need to replace their trees.
Another item that is impacting trees on the golf course is the desire for ideal playing conditions.  Golfers are becoming more educated on the impact of trees on the turf.  They see the need for sunlight, air movement, and impact tree roots have on the condition of the turf.  As trees are removed, putting surfaces become better.  Golfers also see that opening up views of other parts of the golf course created better vistas and a more attractive golf course.
The development of a Tree Management program is something we install on every project.  With the help of other professionals, such as the USGA and an arborist, we can develop a plan that improves the playing conditions and keeps intact the design intent of the golf course.  Recent plans have been completed at the Country Club of Peoria, St. Charles Country Club, and The Kansas City Country Club.  These Clubs have begun to see the success of a proper tree program where, once the program is begun, golfers begin to play on ideal turf conditions.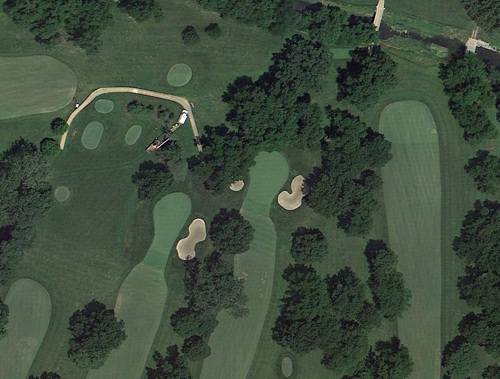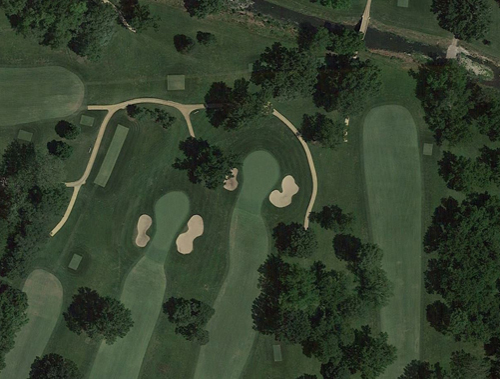 Comparison of 2011 aerial (top) and the 2017 aerial of the 17th green at Kansas City Country Club.
Photo: Google Earth